Amplify DEI is a conference based on a simple question: what would it look like if DEI (diversity, equity, and inclusion) were at the forefront of every workplace? Just take a moment to imagine that. What would it look like? One of the Amplify DEI is more than just a conference.
My passion was born out of my desire to create a better world for my son and the next generation. It was an amazing experience but also a step of courage for me to do. Despite the movement towards amplifying diversity, equity, and inclusion (DEI) in the workplace, we are not there yet. Each of us—myself included—can do better to take inspired action towards creating safe, open, and inclusive workplaces. 
The Amplify DEI Summit is a virtual event that focuses on how to amplify (educate, promote, and grow) DEI in our lives and workplaces. The first year of Amplify DEI was in 2020, and it ran again in Fall 2021 with 92 speakers. I am proud of what we were able to accomplish with Amplify DEI and want to share my experience organizing this virtual summit.
I want to share the story of how Amplify DEI came to be—my own story, the inspiration, and the vision behind it. I want to share because this is part of my story. And for DEI to truly make a difference, we each need to step out in courage and share our stories in order to make our own unique impact on the world. The goal here is to share how I did it so that you can be inspired to also take action as a self-leader in order to move the needle on DEI in the workplace. 
My story
I'm Vivian Acquah, and I wear many hats—mother, partner, inclusive workplace wellness advocate, consultant, Ghanaian roots, Dutch citizen, and more. Each one is part of my identity and my story. The path to Amplify DEI starts with my son, Orlando. Even before he was born, I believed during my pregnancy that my child would teach me valuable lessons. This proved to be true—I see Orlando as my compass, the one pointing me towards the path I should go.
When Orlando was just four months old, I made the decision to break away from corporate life. I was working in a very toxic work environment that did not accept me for me. Throughout my pregnancy, I was constantly devalued and dehumanized. The stress of that workplace seriously jeopardized my health and indirectly the health of my unborn child. It all became clear when I looked into my son's eyes and realized: as his parent, I need to give him advice on how to thrive. And, if I wanted to show him how to do that, I needed to listen to my own advice.  
So, I left my job. I changed paths and started working as an inclusive workplace wellness advocate. I wanted to bring the human factor back into the workplace and create work cultures where people are empowered, and their talents and identities are valued and utilized. 
My son saved my life and inspires me every day to keep building a better life for both of us. But, I am equally impacted by the Ghanian proverb, Sankofa, that my grandmother taught me. It means to bring lessons from the past with you towards the future. So, I bring what I learned through the difficult seasons of my life and bring it forward with empathy to help others.
This is where Amplify DEI really began, with the encouragement of my son and lessons from my grandmother. It was born out of that desire to step up into my superpowers and channel them in a way to help other people. Amplify DEI was a place where I could bring each part of myself and my skills and passions to each day.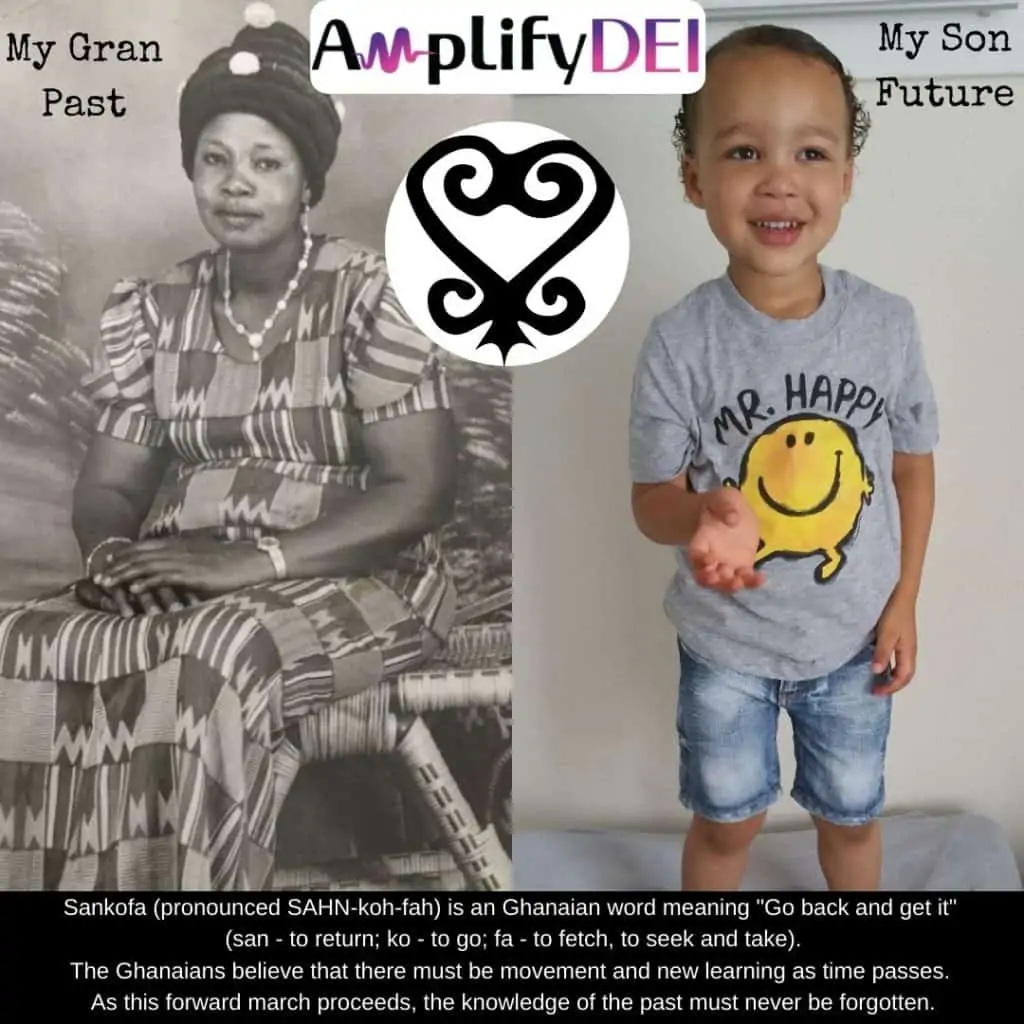 My inspiration for Amplify DEI
Amplify DEI started in 2020. I remember having to talk to my six-year-old son Orlando about what happened to George Floyd; he just saw a snippet of the murder of George Floyd. How do you explain racism to a six-year-old? It was one of the most challenging conversations that I had. He asked questions, like, "Is anybody going to hurt you, Mom?" This question broke my heart.
And it wasn't just my son asking questions—the whole world seemed to be poised to take action. But I didn't want to just follow along with performative action, but I wanted to inspire real change. This wasn't something I could just sit back on and say, "Someone else will do something." No—it's something for me to take action on. I felt like I needed to advocate and do something to address this. I wanted to create a safe place and make a real impact in the world. 
I was, and continue to be, inspired by Beyoncé's song "Bigger," which is the theme song of Amplify DEI. Some of the lyrics are as follows: 
If you feel insignificant
You better think again
Better wake up because
You're part of something way bigger
You're part of something way bigger
Not just a speck in the universe
Not just some words in a bible verse
You are the living word
Ah, you're part of something way bigger
Bigger than you' bigger than we
Bigger than the picture they framed us to see
But now we see it
And it ain't no secret' no
This initiative is more than just a conference because it's part of something bigger. It's bigger than me and bigger than even the speakers and educators who shared so much with us during Amplify DEI. It's about each of us doing the work to be self-leaders and take real, inspired action to embrace and amplify DEI in our lives and workplaces. 
My vision for Amplify DEI
The overall vision for Amplify DEI is to simply make a difference. To create a space for education and conversation around diversity, equity, and inclusion. By bringing so many speakers and educators together, we could all walk through an experience to learn and grow together by listening to stories and ideas from different people. 
The specific vision for Amplify DEI 2021 was around the theme of activating leadership and self-leadership. This theme was woven into all of the presentations and panel discussions because each of them answered one of two questions:
How can people in formal leadership positions (in their company or organization) take action towards amplifying DEI in the workplace? We heard from company representatives about notable initiatives being done to amplify DEI and make safe, inclusive, and open workplaces. However, more of this needs to be done in the workplace and amongst those in formal leadership positions and positions of power. 
How can individuals take inspired action and become self-leaders, making changes in their own lives and then modeling it to other people? Each person is capable of change. No one has to wait for permission from a manager to activate inclusion—it starts with the individual. We can't underestimate the impact that each individual can make.
To answer these questions, I needed to bring in experts and educators from a diverse set of backgrounds. I was blown away by the interest and engagement we received from people all over the world; we ended up with 92 speakers in 2021! Because each of them was willing to open up, be vulnerable, and share their story, we were all able to learn and grow to become better leaders. 
To capture the vision of Amplify DEI, I had to ask each of the speakers what they wanted to contribute. It was important to allow them to speak from their genuine truth and expertise—I wanted to hear about their own lived experiences. It is so important to listen to other people and support them when they are saying that they've been hurt or dealt with racism and microaggressions. 
As the organizer of this summit, I needed to make space for those conversations. Each speaker spoke from their heart in a way that we could truly activate empathy, awareness, and understanding—activate the humanity in each of us. If we don't hear each other's stories, we cannot understand, and we cannot take action to create positive change. 
Thank You Sponsors & Amplify DEI Committee
I am so grateful for the support of Indeed, The Essential Experts, IBIAS VR, Acrolinx, Deloitte, Ecosia, TIBCO, Unleashed, Mojoz Consulting, Studio Creative Concepts. Together they made it possible to create a ripple effect towards inclusive workplaces.
The Amplify DEI Committee members Yuli Kim, Marjolijn Vlug, Peter Griffiths, and Mira Culic Griffiths were my mirror during the selection process of the speakers. My partner Jan van G. and Orlando are my anchors. Because of them, I can. Thank you for being a true inspiration.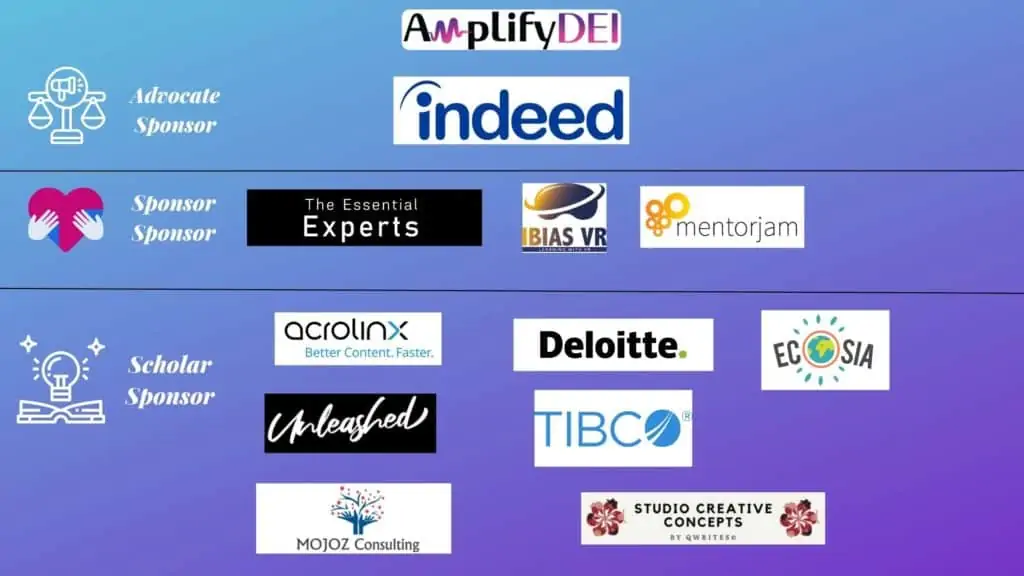 Conclusion
Organizing Amplify DEI was an intense, unique, and challenging process. It took a lot of planning and coordination to pull off—especially during a pandemic! But I stayed true to my inspiration and vision for it: to be a self-leader and create something bigger in order to improve the future for both people today and the next generation. 
I am constantly inspired by my son, supported by my team and people around, and driven to keep amplifying DEI. I want to move forward and continue this work, encouraging everyone to be part of the bigger picture to amplify diversity, equity, and inclusion.
Latest Posts