When implemented correctly in organizations, diversity, equity, and inclusion (DEI) programs can help drive positive organizational change, resulting in more innovation, happier and more engaged employees, and increased growth. However, some DEI programs are not built for a sustainable impact. Despite the good intentions, they are being treated like a one-night stand. As a Harvard Business Review study suggested, a poorly constructed program does more harm than good; employees often triggered an intense backlash, and it increased more bias.
Need for Empathy
To make effective progress on DEI, building an inclusive mindset is crucial. Leaders need to recognize the presence of bias, societal inequities, and microaggressions in the workplace and accept that their organization is not a level playing field. It is no surprise that 97% of employees believe that empathy is essential to healthy workplace culture. Unfortunately, low empathy organizations have a lot of turnover and struggle to promote DEI.
Many companies fail to demonstrate the importance of empathy which sows seeds of distrust at work. But to promote empathy, employers need to rope in the help of HR to proactively train all their employees – from C-suite executives to entry-level employees – to understand empathy and be empathetic. Unfortunately, the traditional method activates bias rather than eliminating it as companies have been doubling down on the same approaches they have used since the 1960s.
Click here to activate the Amplify Empathy Training in your organization

Tapping into VR for Training
Luckily with the progress in technological advancements that we have made so far, it is possible to make changes in the right direction. A virtual reality (VR) experience can change that. It has been found by Stanford University researchers that VR can noticeably improve empathy and commitment to social change mainly due to its highly immersive and interactive experience. Many enthusiasts view VR as the ultimate empathy machine that can help people understand each other better than any other medium – lectures, group activities, novels, TV shows, and films.
In comparison to traditional methods, VR can also help people understand DEI concepts effectively. However, DEI training can often feel punitive, which is why people feel diversity fatigued. On the other hand, the current VR-DEI training does not set rules or influence participants' actions. Instead, participants are encouraged to pave their own learning journey by experiencing displeasing and uncomfortable situations from someone else's perspective.
The Mirror Effect
Some of the things participants experience during the session include the biased assumptions people make that you are not qualified, getting shut down for having a different perspective, being excluded from social activities and gatherings, and people believing that the problem is you. It results in participants feeling frustrated due to the unpleasant journey. That frustration makes them not want to experience that ever again, and so it cultivates the mindset and feelings of empathy.
Being able to live and feel someone else's experience through their lens provides behavioral and cognitive learning, which is more effective in retention and that increases pro-social behaviors such as compassion and empathy more than both classroom and online learning. VR training can help people experience the biases and behaviors that impact underrepresented populations and slowly dismantle the bias as empathy builds.
Revelations through Discussions
A virtual reality experience is just the start. Its true value is realized during the team discussion afterward, which can help improve team dynamics. A trained facilitator will lead the team in a guided discussion of how the experience made them feel. They will also cover what exclusion and bias looks like in your organization. Next, teams practice how to identify bias and how to tackle it. They will also cover the business impact of exclusion and bias as a group and share their personal takeaways. The discussion ends with commitments to take action that will make a change.
In a recent survey conducted by Amplify DEI, only a quarter of respondents, 26%, have used VR tools for DEI training, while the remaining 74% have not been introduced to this powerful and promising technology. Yet, VR technology has the potential to unlock and change the face and fate of corporations.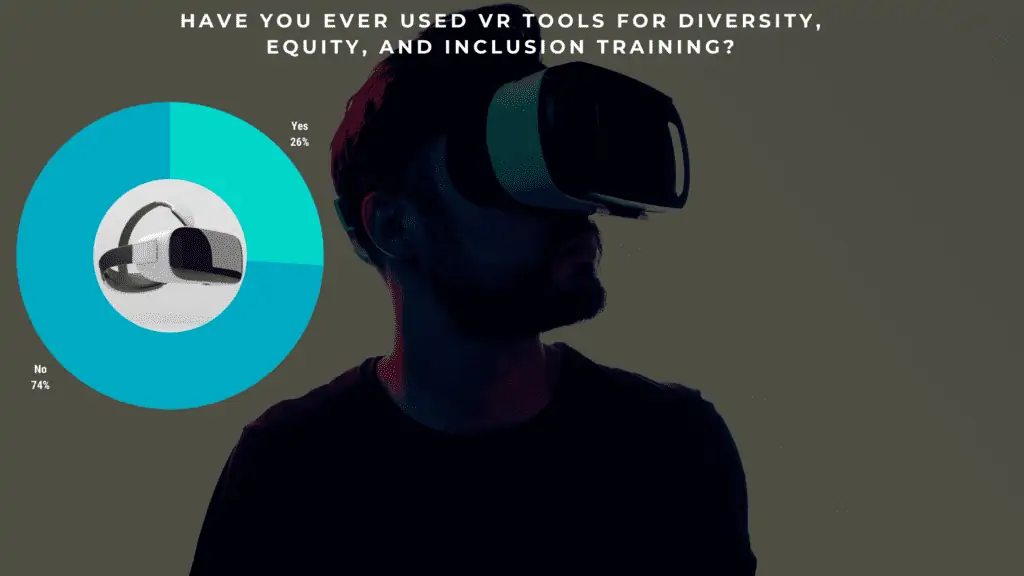 Effective training
Chris Milk, a film producer who created a VR film for the United Nations, believes VR connects humans to other humans in a profound way that has never been seen in any other form of media. It can genuinely change people's perceptions of each other. Such training is most effective for organizations that see value in building conscientious work ecosystems. Beyond the visceral experience, it would give organizations a new tool that has a more comprehensive and lasting impact.
As a DEI consultant, I champion the idea of VR training to amplify DEI because it is appealing to the inclusive mindset talents who are more likely to stay at companies that have a diverse and inclusive workforce.
Reach out to amplify DEI with the Empathy Unlocker tool.
Click here to activate the Amplify Empathy Training in your organization
Latest Posts