Small inclusion efforts go a long way. Use LinkedIn's pronunciation and pronoun features as a basis for broadening your horizon.
The definition
Inclusivity is about being chosen for school or club teams, doing work for a project, or being chosen to sit at the lunch table; at its heart, it is about being included. Being chosen to star in the school play, being invited to a dinner, or being part of a group birthday celebration are all a means to a greater end. Inclusivity is a method of making equal access available to the excluded, such as those having physical or mental disabilities or members of minority groups.
Disclosure: This post contains affiliate links. If you click through and make a purchase, I'll earn a commission, at no additional cost to you.
Listen to the audio version of this article
Beyond the surface
Great. Now you have read the definition of inclusion. On the surface, it appears that it's accessible to all, right? Regardless of how others perceive us, we all want to be inclusive and respectful. And, in turn, we want to be accepted and respected. Such a broad definition allows you to start wherever you wish, however. Doing something big or doing everything at the same time isn't required. Make your start small. One small change; a single step; but make sure it's clear.
LinkedIn has an inclusion tool for that
Vivian Acquah, who is a diversity, equity, and inclusion (DEI) consultant, strategist, and trainer, explained that when learning how to properly pronounce their co-workers, clients, and stakeholders' names, it's essential. LinkedIn offers features to identify yourself and others, such as: using first and last names, the name feature, and the ability to ask for first and last names. If you're speaking to a group of people, drop the term "guys (or guysing)" because it does not include everyone.
LinkedIn Profile
Your LinkedIn profile is one of the quickest and easiest ways to increase your reputation in the professional world. For example, here you can get a glimpse of what a person looks like, find out what their professional interests are, and learn about their personal history. If you know where they went to school, you'll be able to tell if they studied certain subjects, where they previously worked, and more.
However, you will often only discover how individuals are shaped by their experiences, skills, opportunities, geographies, and events if they were to write about it themselves (you get the idea). But, don't forget, there is even more! To obtain even more information about a profile before contacting or meeting a new connection, you should practice what you've learned in this article by guessing the pronunciation of the name.
Acquah, who is also the founder of Amplify DEI, noted that she also incorporates the name pronunciation feature as well as pronouns on her LinkedIn profile in order to make other users feel more at ease. Inviting them to also include this information on their site is another part of supporting them to feel comfortable. Acquah, in this short video, examines the role of pronouns in being inclusive and getting to know others.
The question is, what pronoun are you using?
Meet the numbers
As most people will agree, proper name pronunciation and the respect it gives must be grasped. Wouldn't everyone want to use any possible means to help them accomplish their goal without appearing strange or offensive? However, in a recent LinkedIn poll conducted by Acquah, more than half of the respondents claimed they are not using the name pronunciation feature.
While she was very surprised by the results, Acquah mentioned that she was fascinated as LinkedIn has put in an effort to assist with DEI amplification. There is no need to adjust or shorten your name because people can't pronounce your name.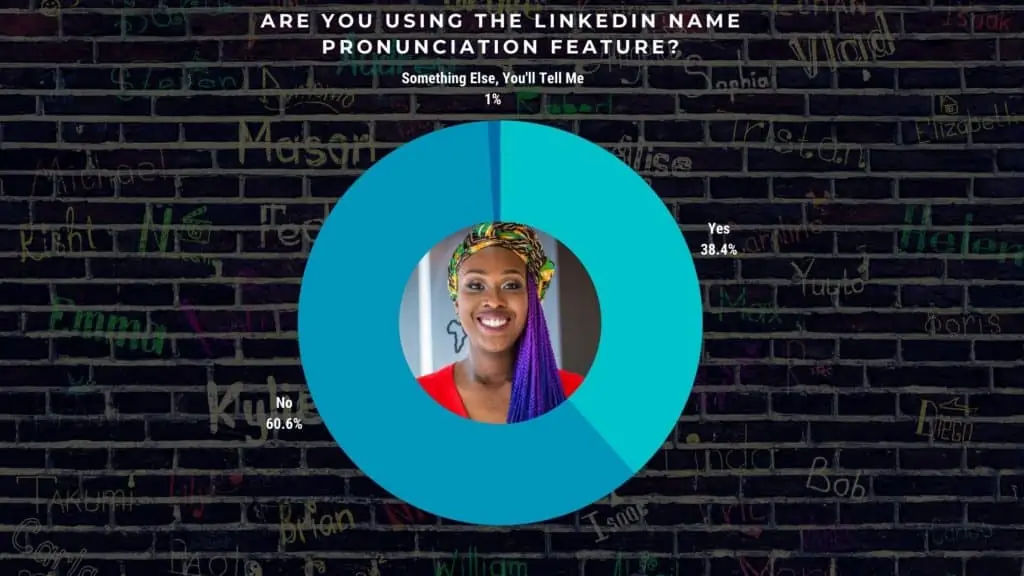 There's still work to be done
"These results reveal that there is still significant work to be done to help people understand even the relatively minor efforts to implement DEI in our communities and the workplace," Acquah said. I wanted to draw attention to micro-actions people can take to amplify DEI in their own spheres of influence.
Uzoamaka's Mother
Meanwhile, Uzoamaka Aduba explained, "I won't be changing my name, and I am proud of it." "Uzoamaka asked her mother if she could change her name to Zoe. Uzoamaka shared that her mother was cooking and was talking in her Nigerian accent when she asked, 'Why?' Uzoamaka said, 'Nobody can pronounce it.' Without missing a beat, her mother said, 'If they can learn to say Tchaikovsky and Michelangelo and Dostoyevsky, they can learn to say Uzoamaka.'
To change a name is to erase a part of a person's identity.
Let's Amplify DEI
Imagine a world where Diversity, Equity & Inclusion were at the forefront in the workplace?
Together, we can create thriving work environments that empower both employers and employees alike!
Unravel and learn about Diversity, Equity & Inclusion from 80+ international experts from September 27th till 29th 2021. Go to Amplify DEI to accelerate your DEI journey.
Currently, only the LinkedIn iOS or Android mobile app can activate the "Say My Name pronunciation" feature. More information can be found below).
Additional resources
This article is adjusted from the article Stop 'hey, guys(ing)': Identifying LinkedIn tools for seamless inclusivity and respect. With approval from the DEI Advocate, MOJOZ Consulting, LLC by Monique Jozwiakowski, President and CEO (the author of the original article).
Latest Posts