The role of working mothers should not be undermined in the workplace scenario today. They have always played instrumental roles in society, but their contributions to the workplace have become more diverse and valuable with time. This needs to be acknowledged in an effort to empower working mothers and to raise awareness about their human needs at the workplace. In this live broadcast of "Let's Humanize The Workplace," Vivian Acquah, the workplace wellness advocate, talks about the power of working moms and of ways to inspire employers to do better for working moms.
Disclosure: This post contains affiliate links. If you click through and make a purchase,
I'll earn a commission, at no additional cost to you.
Vivian Acquah?
Vivian Acquah, being a mom to the 6-year-old Orlando(who is the inspiration behind her becoming a workplace wellness advocate)and having struggled with postnatal depression and pregnancy discrimination at her workplace, feels very strongly about making the workplaces more "human" for working mothers.
She begins by bringing up an inspirational post by Maya Pope-Chappelle, a LinkedIn news editor and presenter of the #HowIGotHere interviews.
Vivian Acquah says, "one of the posts that Maya shared last year was about her returning to work after her maternity leave, which is very inspiring. It challenged me to share examples like this more often because we need to share stories about how women are dealing with the fact that they are coming back out to work, and how they can integrate their new work-life situation."
Unhygienic Mother's Rooms
In this live broadcast, Vivian Acquah mentioned a photoshoot by Floor Fortunati that highlighted the alternative mother's rooms or "unhygienic" mother's rooms in the Netherlands, where breastfeeding mothers have to pump due to the absence of better facilities. This included photographs of women pumping in a restroom, storage room, or even in a car.
In her effort to humanize the mother's room, she wrote an open letter to every CEO, real estate investor, facility manager, real estate broker, commercial building architect and designer to include such facilities in their premises. "I know that there are a lot of small companies out there there are facing challenges regarding humanizing the mothers' room, but then again, the question that I have is, "Would you eat your four-course meal in the restroom?" says Vivian Acquah.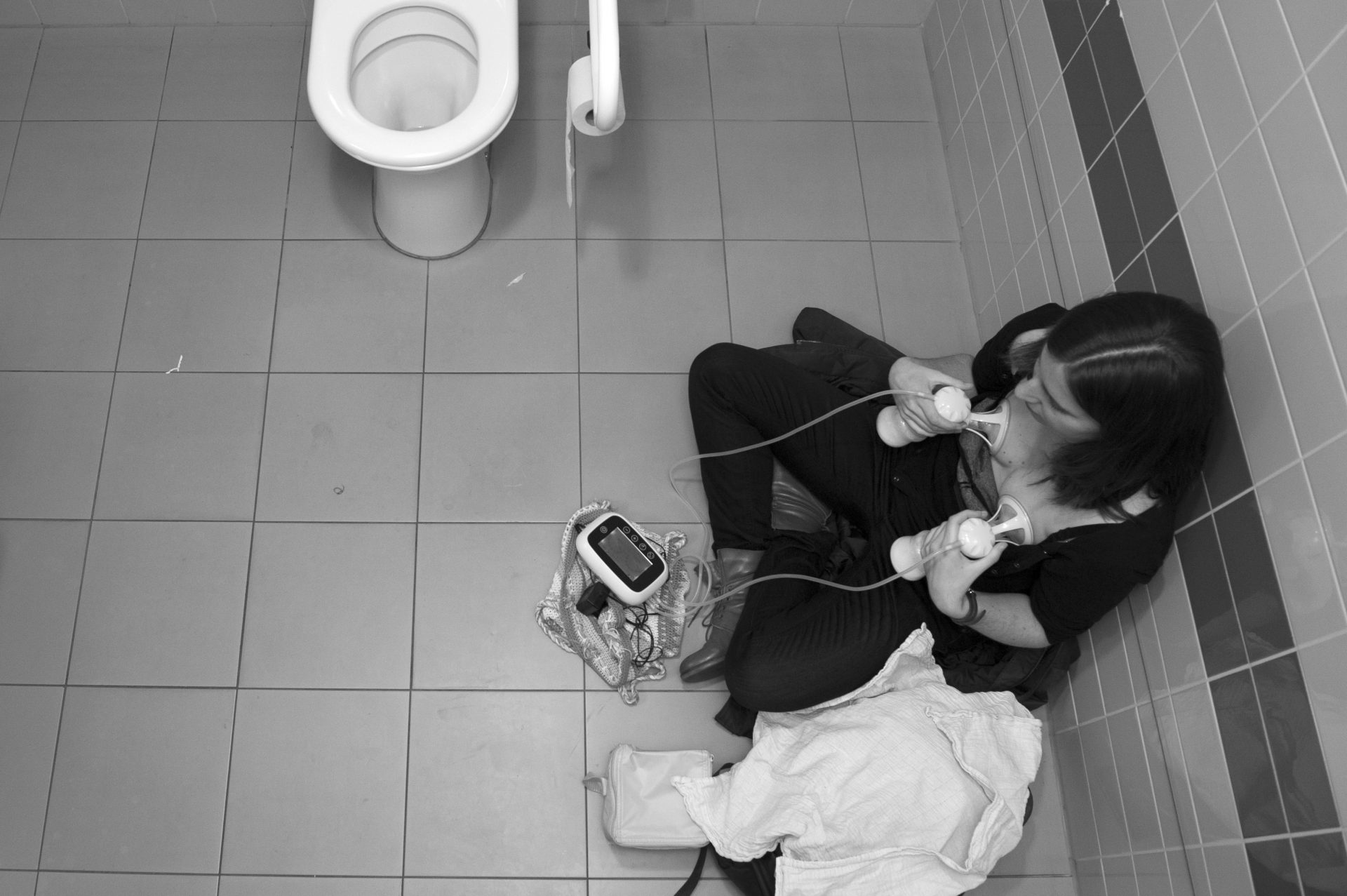 Introduction
Vivian Acquah invited the guest speaker Natasha Wahap, a chief happiness officer at Grab in Singapore, to talk about the power of working moms. Her goal is to ensure that people are passionate about their work while bringing them the best employee experience. Her second guest speaker Marjolijn Vlug is a job coach for people who know what they want, helping them out with more clarity and less stress. She also advises organizations about improving their overall HR recruitment experience.
Maternal Wall Bias
Maternal wall bias is something that exists in workplaces and needs to be eloquently addressed. "Maternal wall bias occurs when colleagues view mothers or pregnant women as less competent and as less committed to their jobs. It's a major problem for a woman's career advancement. It can manifest in different ways coming from hiring committees, colleagues, or individuals conducting performance evaluation," explains Vivian Acquah.
Working women during their pregnancy are stereotyped with various labels. The "pregnancy brain" is associated with the hormonal and physical changes endured by pregnant women affecting their cognitive abilities by reducing their attention span and causing mental fogginess. While some people consider that the pregnancy brain is a myth, some people endure it and need assistance and support to break through this invisible wall.
The Power Of Motherhood
The power of motherhood is unmatched. Companies should treat working mothers as their most precious possession. As Vivian Acquah says, "Beyonce also shared that once she became a mother, she did not need to address her persona Sasha Fierce. She already knew that she had it in her, but she knew the power of a mother who is empowered. If you have that in the workplace, definitely utilize it but also embrace the mother."
During pregnancy, women sometimes feel weak, and their motivation level drops, affecting their productivity, however, majority women after their maternity leave are more focused and highly motivated. Marjolijn Vlug brings up "The example of Serena, who continued to perform highly after having become a mother, and proving that women are capable of resuming with higher energy and more productivity."
Taking the example of Serena, who won a Grand Slam, proves that women are capable of resuming with higher energy and more productivity. Working mothers are very flexible; they adjust to situations very easily.
Flexible
Natasha Wahap believes that mothers are "incredibly adaptable." They manage their families and balance work ideally. Nevertheless, women in the 21st century are usually fired from their job for having a baby, suddenly her performance is devalued for the management and is seen as someone incapable of working.
Companies should support working and pregnant mothers by accommodating them, addressing their problems, and finding solutions accordingly. According to Marjolijn Vlug women can be facilitated in different ways she suggests companies to "Work out an employee journey, map."The firms should involve working women to plan a work environment suitable according to their needs.
Inclusive Parent Policies
Moreover, they should also introduce policies not just for mothers but also for fathers, which means policies that are flexible for parents to manage. A parent policy is essential in workplaces to help more employees become more productive. According to Vivian Acquah, "I also want to address the fact that companies that are watching to try to create more inclusive parent policies."
It is essential to provide information and raise awareness amongst women who deal with pregnancy, and post-pregnancy effects as their mind and body go through prominent transformations. For women, the transformation is not only physical but mental; their priorities change with an addition of multiple responsibilities, so they must be well notified about the local guidelines and encouraged to connect more with their family for support and motivation.
Biases Can Affect The Health Of The Baby
Families should help out in making them feel content as for women having a changing body is already challenging. Women in their pregnancies must be supported as these pregnancy traumas can lead to disturbing relations and affect the health of the child and the mother. Moreover, mothers should also take care of their mental well being by investing time and energy in the things that fill their cup a.k.a. some personal time so their mind and body can relax. For example, they should go out for a walk, read a good book, meet with friends, etc. Biases should be addressed, and everyone should stand together in this.
Women Are Vital
In conclusion, women form a vital part of society, whether it is through their work in homes or at the workplace. These are the same women who give birth to a new generation, and this not only increases their worth but also shows their strength. Pregnant working women should be valued and appreciated in our societies. Companies should consider it their responsibility to make the working environment most suitable for them.
Connect with Natasha Wahap, and Marjolijn Vlug via LinkedIn.
Related Topics
Lean In To Shape The New Definition Of Leadership
Host: Vivian Acquah
As a Workplace Wellness Advocate, Vivian advises managers on how to keep their team members healthy, happy, and safe by using a holistic approach called workplace wellness. She is also the digital strategist for this live stream production.
This live stream will be broadcasted via LinkedIn, Facebook, Youtube & Twitter/Periscope simultaneously. Involve your audience by using live streams! Would you like to know more?
Feel free to send a 📧 via LinkedIn or [email protected]